24th Annual Burns Night Supper
Welcome to the Shasta Celtic Societies' 24th Annual Burns Night Supper (Virtual edition).
This year's theme is "The Hope of Burns."
In his short life, he wrote so many poems and songs that inspired hope for so many in his time, and even today.
Introduction
From our Master of Ceremonies, Bob Elrick

Scotland the Brave
Played by Jefferson Pipe Band's Bob Skinner

Greetings from the Chieftain
From the Shasta Celtic Society Chieftain, Holly Hooton

Toast to Veterans & Toast to Absent Friends
Not traditional Burns Night fare, but are have been included by the SCS as an important aspect of our gathering from the beginning.
Some hae meat and canna eat,
And some wad eat that want it;
But we hae meat and we can eat,
And sae the Lord be thanket.
Poem performed by Norm Birkett

A Man's a Man For A' That
Poem performed by The Macalmans

Music to enjoy your Haggis by!
Here's a playlist of Scottish songs while you dine.
Poem Reading
Throughout the night poems of the Scottish Bard are read. Here is a common Burns Night selection.
Music Interlude: Pumpkin's Fancy
Jefferson Pipe Band members Jax and John.

Music Interlude: Gabriel's Oboe
Played by Caleb Cox on Uilleann Pipes

Immortal Memory
The Immortal Memory is a speech about Robert Burns. His life, his poetry, his music, his loves, his politics.
Many times the IM is themed (The Ladies of Burns, Nature, Love, Poetry, etc.).
With that in mind, here are some Immortal Memory presentations of varying lengths:
Biography of Burns
From a strictly historical perspective, here is a nice little biography page on Burns.
Music Interlude: Caoineadh Cu Chulainn
Played by Caleb Cox on Uilleann Pipes

Toast to the Lassies
This toast is directed to the Lassies in the group.
Tongue-in-cheek or heart-felt, bawdy or clean, it honors Burns' own conflicted relationship with the ladies.
Presented by Dave Alexander

Response to the Toast to the Lassies
(AKA Toast to the Laddies, AKA Revenge of the Lassies) Presented by Michele Spence

Steam Train
Performed by Jefferson Pipe Band

Auld Lang Syne
Played on Pipes by Shasta Celtic Society's Bob Elrick

Basket Drawing
To make our evening even more exciting,
two (2) lucky winners will be enjoying their haggis dinner with a beautiful basket from our own Diane Elrick.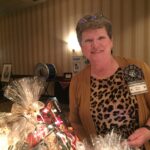 The Shasta Celtic Society thanks you for your support!
Thank you so much for the continued support that makes our annual Burns Night Supper possible.
We love putting this event on and look forward to seeing you next year for our 25th Burns Night Supper!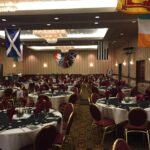 It's empty without you, but we hope to see you all in 2022!